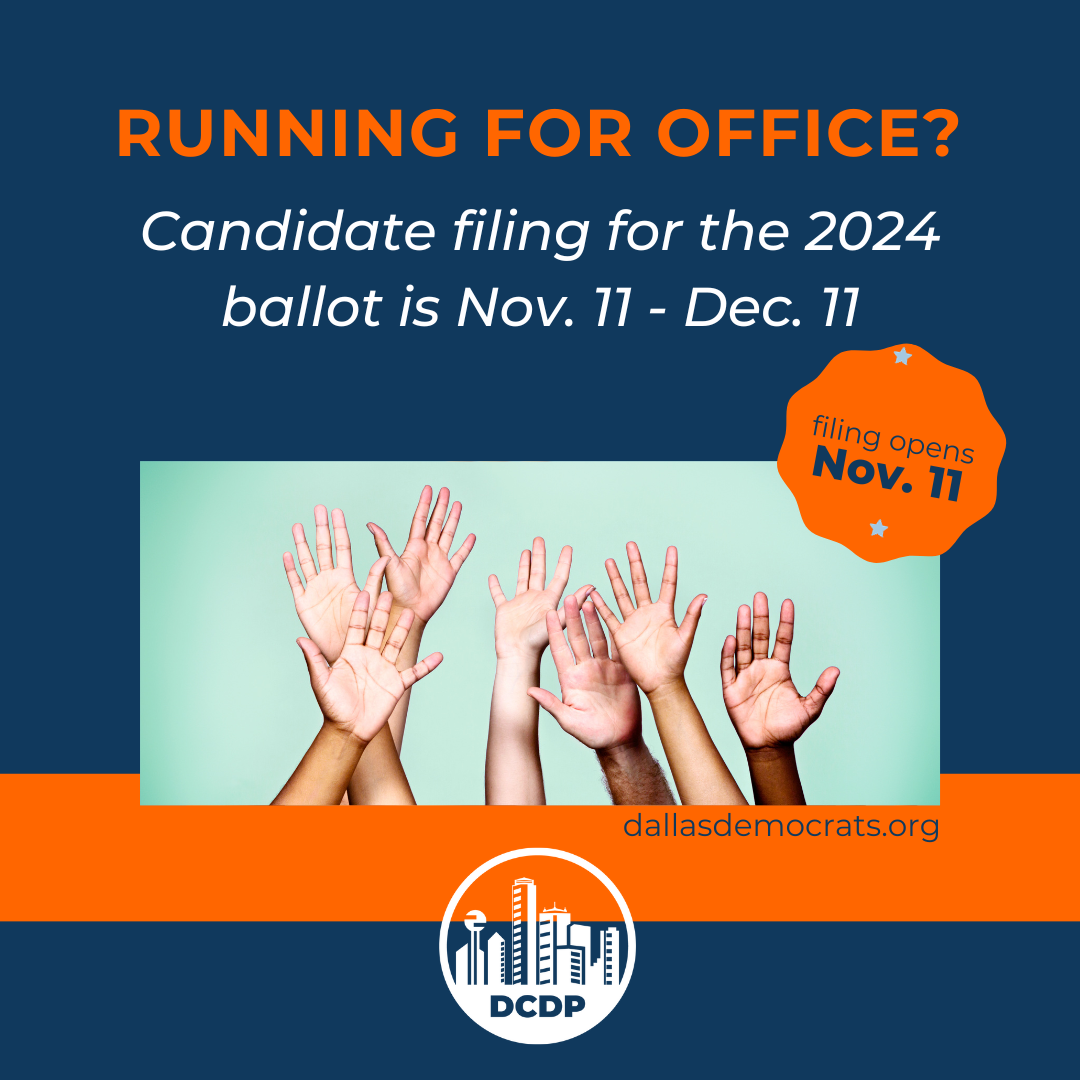 Candidates
Please consult sos.state.tx.us for ALL questions regarding candidacy.
Filing begins 11/11/23
A list of all candidates who have filed for the 2024 primary ballot can be found by clicking this link: 2024 Primary Candidates.
The Party Headquarters will be open for Precinct Chair and Candidate filing during regular business hours (Monday-Friday 9:00 AM-5:00 PM) and outside of regular business hours on the following dates:
Sat. 11/11 - 10:00 AM - 3:00 PM
Tues. 11/14 - 5:00 PM - 7:00 PM
*Sat. 11/25 - By appointment only*
Tues. 11/28 - 5:00 PM - 7:00 PM
Sat. 12/9 - 10:00 AM - 3:00 PM
Filing ends Mon. 12/11/23 at 6:00 PM
The Party can not help run your campaign. The Party can not provide voter lists.
Please be sure the contact information on the application is legible. This information is kept confidential at the candidate's request.
The Party will not be providing paper copies of applications for office or signature petitions. Please obtain paper copies for your records prior to arriving to file. Or bring a thumb drive and we will scan the documents on to your device.
The Party will not be counting/checking/verifying signatures unless there is a written challenge to the candidacy. The candidate will be notified, in writing, if a written challenge is filed.
The Draw for placement on the March 5 Primary Ballot will take place at Party Headquarters on Saturday, December 16, 2023 at 5:15 PM. The candidate is not required to be present, the campaign may send a representative but it is not mandatory.
Important Dates:
Oct. 11
Last day to register to vote
Oct. 24-28
In-person early vote, 7AM to 7PM
Oct. 28
Last day to apply for ballot by mail (received, not postmarked)
Oct. 29
In-person early voting, 7AM - 7PM
Oct. 30
In-person early voting, 12 PM - 6 PM
Oct. 31 - Nov. 2
In-person early voting, 7AM - 7PM
Nov. 3 - Nov. 4
In-person early voting, 7AM - 9PM
Nov. 8
Election Day voting 7 AM - 7 PM, last day to receive ballot by mail