Register to Vote in Future Elections!
(the October 11 deadline for the November 8 election has passed)
Texas does not have same day voter registration like other states, but we are here to help you make your voice heard!
Voting FAQ: mytexasvotes.com/register
Reminder: persons convicted of a felony who have fully discharged their sentence, including any term of incarceration, parole, or supervision, or a completed period of probation ordered by any court, or who have been pardoned may register to vote.
Apply for ballot by mail (PDF)
Application Tracker
Ballot Tracker
---
Vote By Mail!
No matter where you'll be in November, as long as you're a registered Texas voter you can participate in the 2022 General Election. For college students, vote-by-mail is the best way to make your vote count. For more information go to mytexasvotes.com.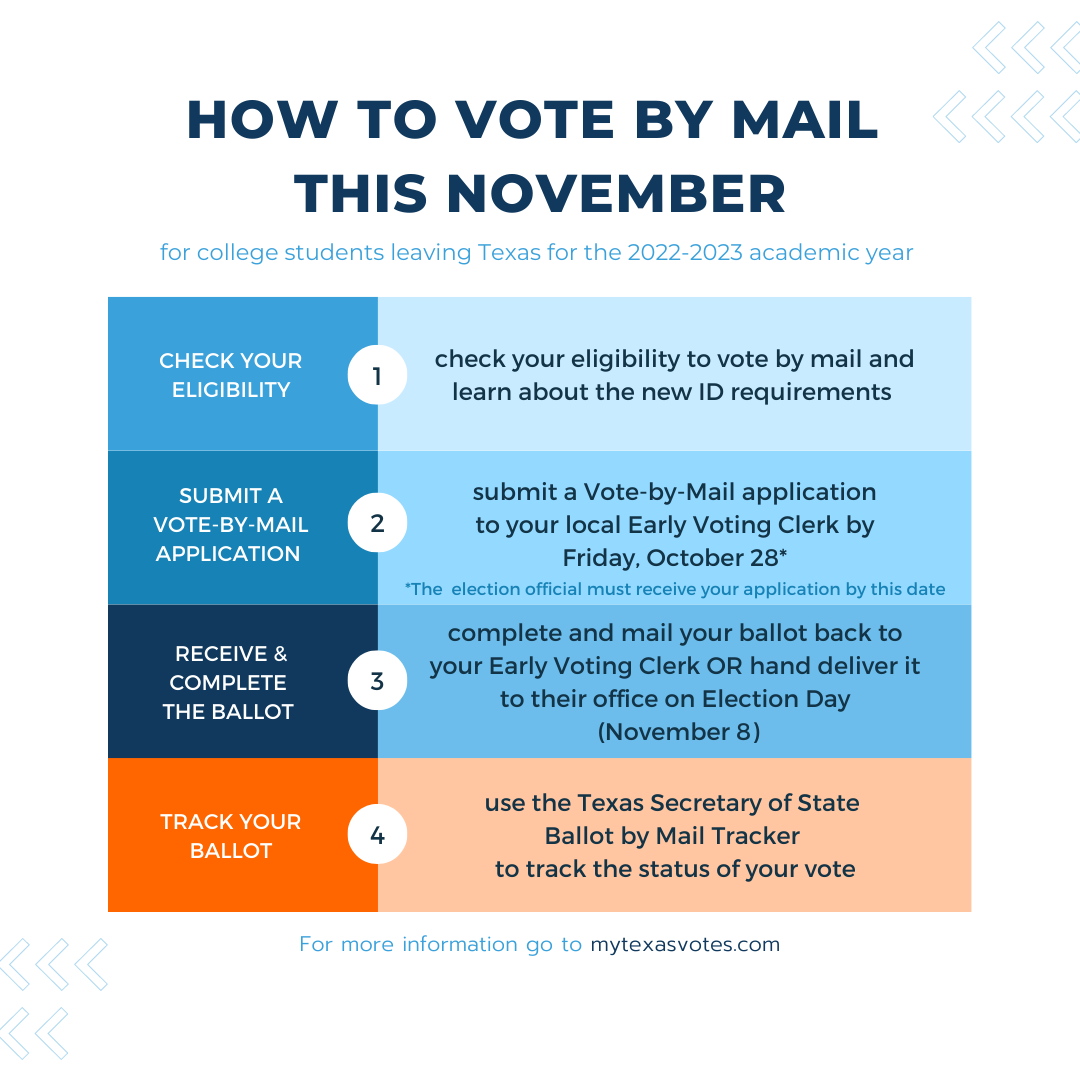 ---
---
What to Bring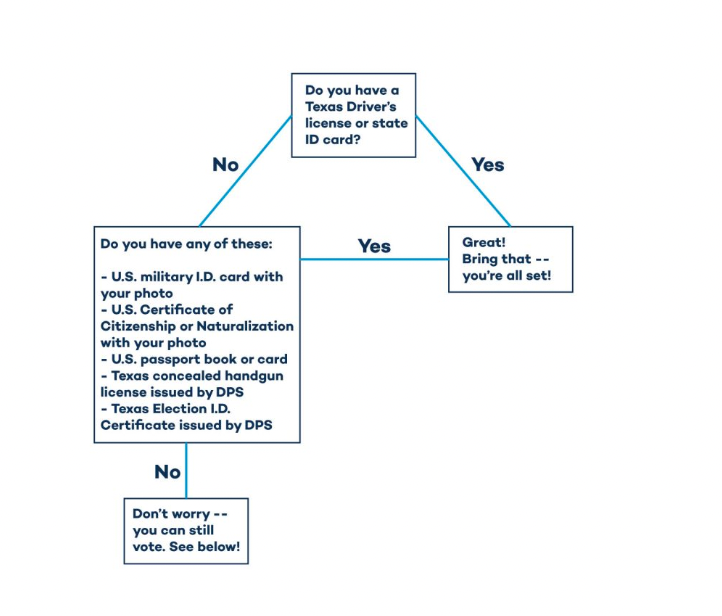 Don't have one of those IDs? You can still vote!
If you're a registered voter but do not possess one of the documents listed above, don't worry, you can still vote a regular ballot! Here's how:
Bring one of the following to your voting site:

Valid voter registration card/certificate
Current utility bill (or a copy)
Bank statement (or a copy)
Government check (or a copy)
Paycheck (or a copy)
Current government document with your name and address on it (including an out-of-state driver's license)
Certified birth certificate (must be an original)

Fill out a form at the voting site
Vote a regular ballot!
---
Meet your candidates
Federal
State
District 111
Yvonne Davis
Place 4
Maricela Moore
Place 7
Nancy Kennedy
44th District Court
Veretta Frazier
68th District Court
Martin Hoffman
116th District Court
Tonya Parker
191st District Court
Gena Slaughter
194th Court
Ernest White
195th Court
Hector Garza
203rd Court
Raquel "Rocky" Jones
265th Court
Jennifer Bennett
283rd Court
Lela Lawrence Mays
291st Court
Stephanie N. Mitchell Huff
292nd Court
Brandon Birmingham
298th District Court
Emily Tobolowsky
301st District Court
Mary Brown
302nd District Court
Sandra Jackson
305th District Court
Cheryl Lee Shannon
330th District Court
Andrea Plumlee
363rd Court
Tracy Holmes
Criminal District Judge Dallas County Number 1
Tina Clinton
Criminal District Judge Dallas County Number 5
Carter Thompson
Criminal District Judge Dallas County Number 7
Chika Anyiam
County
District Attorney
John Creuzot
County Court at Law No. 1
D'Metria Benson
County Court at Law No. 2
Melissa Bellan
County Criminal Court at Law No. 1
Marilynn Mayse
County Criminal Court at Law No. 11
Shequitta D. Kelly
County Criminal Court at Law No. 3
Audrey Faye Moorehead
County Criminal Court at Law No. 5
Lisa Green
County Criminal Court at Law No. 8
Carmen White
County Criminal Court at Law No. 9
Peggy Hoffman
County Court of Criminal Appeals No. 1
Kristin Wade
Probate Court No. 2
Ingrid Michelle Warren
Precinct 1, Place 1
Thomas G. Jones
Precinct 1, Place 2
Valencia Nash
Important Dates:
Oct. 11
Last day to register to vote
Oct. 24-28
In-person early vote, 7AM to 7PM
Oct. 28
Last day to apply for ballot by mail (received, not postmarked)
Oct. 29
In-person early voting, 7AM - 7PM
Oct. 30
In-person early voting, 12 PM - 6 PM
Oct. 31 - Nov. 2
In-person early voting, 7AM - 7PM
Nov. 3 - Nov. 4
In-person early voting, 7AM - 9PM
Nov. 8
Election Day voting 7 AM - 7 PM, last day to receive ballot by mail